The following Current River information is provided courtesy of
Marc W. McCord (Southwest Paddler)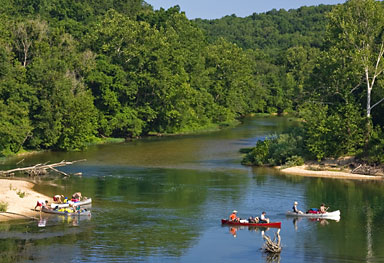 The Current River, located in Dent, Shannon, Carter and Ripley Counties, Missouri, is a year-around stream with adequate flow almost anytime. It is a flatwater river that is fed by more springs than any other Missouri river, keeping its flow constant. The Current River drops at a rate of about 4.4 feet per mile (fpm) on average, with a high rate of 8.7 fpm from Montauk State Park down to Akers, and a low rate of 3.2 fpm from Big Spring to Doniphan.
Due to some phenomenon of nature, the Current River almost never freezes, making it accessible for cold weather paddling, if you are so inclined. The spring-fed water flows at a constant 58-60 degrees, which is probably why it seldom freezes. Most recreational paddlers prefer to paddle the top 90.2 miles down to Big Spring (but NOT in one day!), below which point the river widens, deepens, slows down and becomes a traffic pattern of motorboats and other motorized watercraft, none of which are too hospitable to open canoes or sit-on-top kayaks. Besides, there is plenty to see in the top 90 miles to keep you busy for a week or more, if you have the time. Numerous outfitters offer rentals, shuttles and other services along this upper reach of the river, and there are many places to pitch a tent or stay in more conventional accommodations, if tent camping is not your cup of tea.
Its designation as part of the National Scenic Riverways program protects the Current River under federal law from over-commercialization, damming or otherwise obstructing the flow of the river or disrupting natural plant and biological life on and around the river. The Current River is known for its astounding natural beauty amid Ozark vistas that were made for photo postcards. With many springs to see, and some are quite amazing for the volume they pump into the river, and other topographical wonders to explore there is plenty to keep you busy and interested on any part of this beautiful river. Be sure to bring along a camera (and drybag!) with plenty of film, compact flash cards or disc memory for the photos you will surely want to take.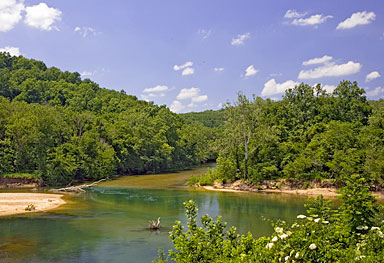 Location
The Current River flows northwest to southeast from just above Montauk State Park in Dent County, about 25-30 miles from Salem, Missouri, through Shannon and Carter Counties to its passage into Arkansas in Ripley County. Doniphan is the last Missouri take-out point for all practical purposes.
Distance from Major Cities
St. Louis 120 miles; Springfield 115 miles; Kansas City 284 miles; Tulsa 293 miles; Oklahoma City 470 miles; Little Rock 280 miles; Dallas 605 miles; Austin 795 miles; San Antonio 875 miles; Houston 714 miles; Albuquerque 1,161 miles; Phoenix 1,605 miles; Denver 1,221 miles; Salt Lake City 1,718 miles (all distances are approximate and depend upon starting point, destination point on the river and route taken.)
Water Quality and Flow
Excellent quality. There is usually an adequate flow for an enjoyable trip without dragging. The spring-fed water is clean and clear, with a constant temperature of 58-60 degrees, supporting many species of fish.
Best Times to Go
You can paddle the Current River almost anytime of the year. The springs that feed the river maintain a good flow and fairly warm water temperature, even when the outside air temperature is much cooler. Proper paddling clothing is recommended for colder months.
Hazards to Navigation
There are no hazards on the Current River at normal water levels. The primary hazards at high flows are a fast current, dead-fall debris piles and low-water bridges, all of which MUST be avoided.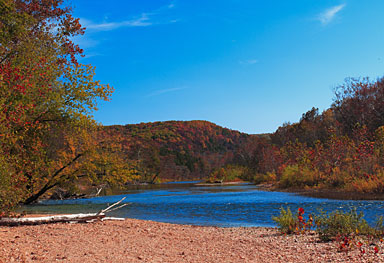 River Access Points
Tan Vat access at 0.0 miles; Baptist Camp Access at 2.1 miles; Cedargrove at the low water bridge at 9.1 miles (campground, put-in); Akers Ferry (Hwy. K) and put-in at 16.7 miles. (There are good camping areas upstream from Akers Ferry, on the left.); Round Spring at 35.2 miles (camping, river access); 52.5 Jacks Fork River confluence at 52.5 miles (locally known as "Two Rivers" This is NOT a take-out, but rather a point of reference); Ferry and take-out at 53.3 miles; Highway 106 Bridge at 59.7 miles; Log Yard at 70.0 miles on the left (access and camping); Beal Landing at 71.8 miles on the left (access); Van Buren (U.S. Hwy 60) Bridge at 85.9 miles (stores, restaurants, lodging, take-out); Big Spring at 90.2 miles (camping, restaurants, lodging, access).
Campgrounds
Montauk State Park; NPS Campgrounds (tent camping only) at Alley Springs, Big Spring, Pulltite, Round Spring and Two Rivers.
Liveries, Outfitters and Shuttles
Harvey's Canoe Rental: 573-226-3386
Two Rivers Canoe Rental: 573-226-3478
Windy's Canoe Rental: 573-226-3404
Carr's Canoe Rental: 573-858-3240
Running River Canoe Rental: 573-858-3371
Current River Canoe Rental: 573-858-3250
Technical Data
Class Rating
I
Length
90.2 miles
Minimum Flow
cfs
Optimum Flow
cfs
Maximum Flow
cfs
First Put-in
Montauk State Park
Last Take-out
Big Spring Campground
Elevation
msl
Gradient
fpm
USGS Gauge
Web: 07064533 (Akers)
Boats
Canoes, Kayaks, Rafts
Season
Year-round, weather permitting
Permits
No
Reviewer's Comments
The Current River is one of those you want to paddle because it is just so beautiful that you want to know you have been here, and you will want to shoot a lot of photos as reminders long after you leave. There are many short stretches that can be paddled in a day or less, as well as the entire 90 miles that can be made into a multi-day downriver excursion filled with cave exploration, bird watching, photography, hiking, and paddling a gorgeous river.
Typical of all Ozarks rivers, you will want to bring along appropriate clothing as the temperatures may change from very warm in daytime to very cool, or even cold, at night. Access to the river is better than on most rivers, with plenty of places to restock supplies or even rent a cabin for the night if you get tired of tent camping (or in the event inclement weather blows in.) If you are running the Current River, then you might also want to take the time to run the Jacks Fork River that parallels the upper part of the Current before reaching the confluence at 52.5 miles below Montauk State Park.
The Current River is fed by several huge springs, some pumping over 2 million gallons of water per day into the river. These springs are responsible for the relatively warm, constant flow of the Current, and add great scenic beauty to the adventure. The Current River flows all the way into Arkansas, but as previously stated, most boaters in canoes, kayaks and rafts do not go past Big Spring at 90.2 miles below Montauk State Park due to the river being slower, wider and more rife with motorized boating traffic. This is a river to which you will want to return many times.