"...one of the world's most scenic float, fishing streams." -
Life Magazine
The following Jacks Fork River information is provided courtesy of
Marc W. McCord (Southwest Paddler)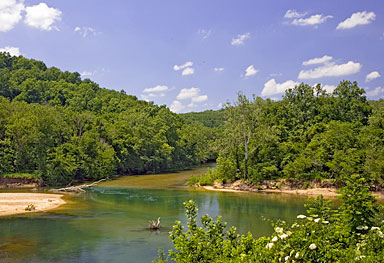 Flowing out of the Missouri Ozarks, the Jacks Fork River is a wild, scenic and exciting ride from its headwaters to the confluence of the Current River in Texas and Shannon Counties east of Springfield. The river flows through a deep valley with no perceptible bottomland on the upper 25 miles down to Bay Creek on river left. The numerous rapids and waterfalls are in the Class I-II category, though their technical nature may make them seem harder to navigate. The upper section tends to run low, especially during hot summer months, and should be avoided with heavily laden boats due to the walking and portages that will be required. The lower section almost always has adequate water for good trips with minimal walking.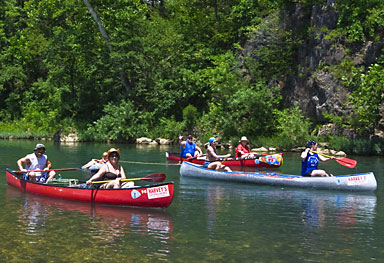 The Jacks Fork River is the major tributary to the beautiful Current River, and shares its splendor and natural beauty. The Ozarks are alive with lush, colorful vegetation, especially in Spring and Fall, when the seasons are changing. Loaded canoes and rafts should avoid the section above Alley Spring at 31.0 miles except after heavy local rains or in early to mid-Spring. Alley Spring is the tenth largest spring in Missouri, and pumps a large volume of water into the Lower Jacks Fork. While the upper section may be more difficult for paddling due to wide, shallow and slow or low flowing water it is ideal for fishing.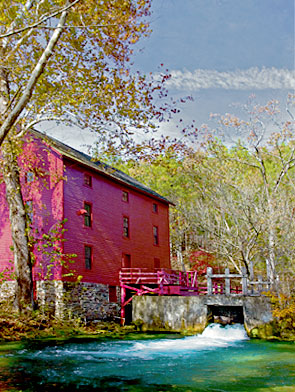 Abundant riverbank campsites, caves, sink holes, bluffs, springs, natural vegetation and other features are everywhere up and down the river. Access is above average, with put-in and take-out points spaced to allow trips of varying lengths depending upon what you want to do and how the river is flowing at the time. If you are planning a trip to the Current River, then take the time to also schedule a day or two on the Jacks Fork for a little more "thrill" than you will find on the tamer Current.
Location
Starting in Texas County in far southeastern Missouri, the Jacks Fork River merges into the Current River just east of Eminence, Missouri in Shannon County.
Distance from Major Cities
St. Louis 190 miles; Springfield 115 miles; Kansas City 284 miles; Tulsa 293 miles; Oklahoma City 470 miles; Little Rock 230 miles; Dallas 555 miles; Austin 745 miles; San Antonio 825 miles; Houston 664 miles; Albuquerque 1,111 miles; Phoenix 1,555 miles; Denver 1,171 miles; Salt Lake City 1,668 miles (all distances are approximate and depend upon starting point, destination point on the river and route taken.)
Water Quality and Flow
Excellent - the river is spring-fed, flowing cold and clear, though the upper section may run low during droughts or in summer months. A gradient of 6-9 feet per mile keeps water flowing, though not too swiftly.
Best Times to Go
Spring, or after local rains, is the best time to run the Jacks Fork. Summer paddling can include a lot of walking, especially on the upper 25-30 miles. Pack lightly for low water conditions, and dress warmly if paddling in winter or early spring
Technical Data

Class Rating
I to II
Length
45.4 miles
Minimum Flow
cfs
Optimum Flow
cfs
Maximum Flow
cfs
First Put-in
Highway Y bridge
Last Take-out
Current River Confluence
Elevation
msl
Gradient
fpm
USGS Gauge
Web: 07066000 (Eminence)
Boats
Canoes, Kayaks, Rafts
Season
Year Round
Permits
No
Hazards to Navigation
While the rapids fall into the Class I-II category some of them can be challenging due to the technical difficulty of navigating them. Just below Blue Spring at 9.6 miles the river constricts and can be a difficult run, but is not generally life-threatening. The depth of the river can be a hazard, especially if you and your boat are going downriver separately. Extra flotation would be nice in case the boat tries to sink - its a long way to the bottom! There are no significant rapids that pose threats to life, limb or gear unless run carelessly.
River Access Points
MDC South Prong Access at Highway Y Bridge at 0.0 miles; Missouri State Hwy. 17 Bridge at "Buck Hollow" at 6.8 miles (Usual put-in for upper section of river is the Park Service campground); Salvation Army camp on river left at 9.2 miles; Bay Creek on river left at 25.2 miles; Alley Spring at 31.0 miles; Eminence, at Missouri Highway 19 at 37.3 miles (Take-out at Lions Ball Park on river right, one-quarter mile below Hwy. 19 Bridge); Shawnee Creek on river right at 41.9 miles; Ferry landing 0.75 miles below the confluence of the Current River at 45.4 miles.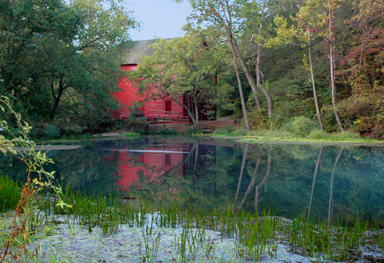 Campgrounds
Montauk State Park; NPS Campgrounds (tent camping only) at Alley Springs, Big Spring, Pulltite, Round Spring and Two Rivers.
Liveries, Outfitters and Shuttles
Harvey's Canoe Rental: 573-226-3386
Two Rivers Canoe Rental: 573-226-3478
Windy's Canoe Rental: 573-226-3404
Carr's Canoe Rental: 573-858-3240
Running River Canoe Rental: 573-858-3371
Reviewer's Comments
The Jacks Fork is a great Class I-II whitewater river with a moderate gradient and typical Ozark abundance in gorgeous rock formations and plant life that accentuates it. The Jacks Fork could be a Norman Rockwell painting of Americana. It offers runs of several distances, from short trips to multiple day expeditions that tour the river from The Prongs to the confluence of the Current River east of Eminence. The rapids are not too technical or difficult for moderately experienced paddlers, and for the most part, the rapids can be avoided by those will lesser skills or who chose not to get wet.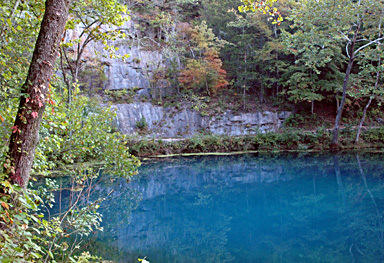 The river is serviced by a large number of outfitters and liveries catering to canoeists, kayakers and tubers with everything from boat rentals and shuttles to campsites, RV parks with hookups, cabins and cottages, restaurants, general stores and just about everything else you need for a pleasant river trip. The Jacks Fork offers sixty-seven species of fish (including several species of gamefish such as chain pickerel, shadow bass, smallmouth bass, largemouth bass, and warmouth), 19 species of mussels and 5 species of crayfish for anglers. The surrounding terrain is 78% forested and only 22% grass/crop growth, and the river flows through bluffs and cliffs overlooking it from one or both sides much of the time.
Considering the ease of paddling the river, the availability of outfitters and liveries, the sheer beauty of the river and its surroundings and the variety of trip lengths on many sections, it is easy to recommend the Jacks Fork River to anybody wanting a great river trip in the Missouri Ozarks. The ONLY drawback I can find is its remoteness and the driving distance getting there from just about anywhere.